Owls, a Brown Thrasher, and the desire for a telephoto lens or digiscope
This past week, on one of the bird forums that Josh reads, various people posted about seeing an eastern phoebe and a brown thrasher at Corn Creek. In anticipation we headed out there yesterday morning bright and early.
We never did catch sight of the phoebe but as we were walking along the trail beside some bare brush Josh stopped to listen intently. All of a sudden out of the brush and right across the path in front of us comes a
brown thrasher
! We were only able to see it for a short time as it headed to the other side of the path and into more bare brush but oh what a sight! Beautiful rich brown! After our hearts settled to their normal rythmns, Josh told me that he stopped as he heard the "thrashing" in the bush. He explained the technique these birds use and why he was alerted to the potential of a bird there. Amazing. He never ceases to surprise me with his avian knowledge which really shouldn't be a surprise to me any more. After all this is the boy who reads and studies bird field guides and books for FUN! One of the gentlemen birders that we met even made a comment to Josh about how knowledgable he was for someone so young.
We were also able to get another great look at momma owl and her owlets.
If you look in the middle of the y of the tree towards the middle of the picture (and squint really hard), thus the wish for a something to get closer shots lol) you will see a dark shape and two little owl eyes looking out at you. A better look at the picture can be seen
here
. There were three little ones huddled next to each other and momma was sitting in a higher branch watching over them.
Looking close in this picture you can even see her "long ears". Josh and I felt like a couple of tour guides as we met and showed these beautiful birds to two birders from out of town. It was so wonderful to watch these birders in awe as these were the first long-eared owls they had seen being from other parts of the US and Canada. As we watched with one of the briders lo and heold didn't we see ANOTHER baby up there on the branch with her. Josh has said all along that he had seen four. Boy did this mom have to eat HER words lol. We even had to show the lady who works there the owlets as she had not seen them yet. She in return showed us where there was another owl and Josh was able to get this amazing picture.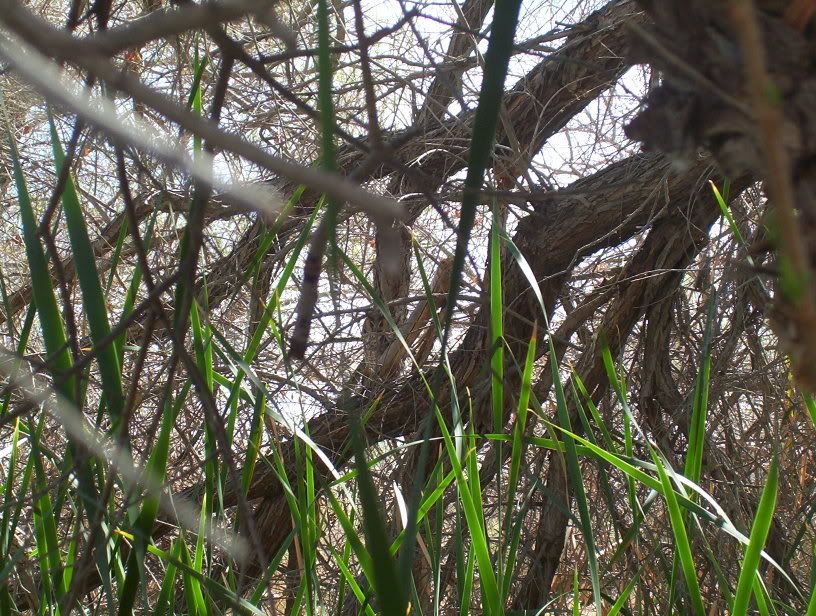 The owl is nestled in the middle of the picture towards the bottom blending in so very well with his surroundings. It might be clearer to see here.
We saw robins, yellow-rumped warblers, a says and a black phoebe, and numerous ruby-crowned kinglets. We heard the american coot in the pond and also the bullfrog who lives there.
All in all a wonderful day.